Today I am linking up with
Comfy in the Kitchen
! Here is an easy Peanut Butter Pie recipe, hope you enjoy!
1 Graham Pie Crust 2 pkg Vanilla pudding
1/2 cup peanut butter 1 tub cool whip
1 1/4 cup milk
Mix peanut butter and milk in a bowl until well blended. Add dry pudding mixes, mix well. Stir in half cool whip. Spoon over pie crust. Top with remaining cool whip. Refrigerate 3 hours before serving.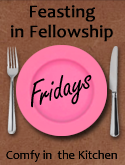 I'm also linking with Raising Homemakers!
Forever Changing,
Liz